You will find some of my poems here!
Some of them may be a bit shy…
Others quite sure of themselves!
But here they are,
Waiting for you,
In their word-clad polka shells… 
Coronation
'Don't slip!', 'Don't fall!'—about all you can do
as last night's rain sits stubbornly upon
the barren ground, enthralled, mesmerized;
simple, shapeless, and raw; hallowed, as if
ordained by the fall of the last surviving leaves.
November abdicating, advanced in age;
and shaping the horizons the dawn of a new hymn.
A lifetime ago the harvest, much too late
for barefoot-dancing and aster crowns; the only
fire now lit, is the one that warms our hands,
while the fading grass kneels to confess her sins.
Not even a lilting lullaby that seeks
asylum in the slumbering stillness.
Hushed the embrace of the statuesque sky,
holding the frost-kissed twigs of a swallow's nest.
The trace amount sound of the wind on tiptoe
all by itself a brazen sacrilege;
the silence, a world promising to be.
Our eyes woven into the warp and weft
Of all they see; art transcending mere methods.
Who said that beauty cannot shape a sky,
A canvas, a poem, or a tapestry?
Divination
Yes, it's been known to let the stars
divine the way to go
about our lives, or to let dreams
decide the ebb and flow
of our daring jokes and gambles—
the sheer wishful thinking
of generations, amassed and twisted
into wildfire, tricking
eyesight into subordination—
certainty enthralled
by lies. Some say to study the flight
of birds, others, the fall
of a pair of six-sided dice,
if only to conceal,
but for a while, the creeping fear
that swoops in for the kill.
We Said
We printed them on glossy
paper, all the places
we were to go, our desires,
"buy ourselves some time," we said.
We taped them around, you
on your computer, and I
on the nicest wall I could find
in my tiny office—
"one day,"
we said, "one day we'll fix
this mess, we'll find a way"
We worked
hard, tooth, nail,
and knuckle to pay
for the overpriced commodity
of freedom,
for you, for me,
to pour our years
of wages, our loveless dollars,
into our dreams. Yet
you sold your guitar
a year (you always were the finer
romantic!) after I gave my Paris postcards
away to a stranger;
in the end, safety is the currency to use,
is it not,
in the heedless purchase of regrets?
Dipped In Words
Who are you?
Where are you from?
What's your story?
What's mine?
What's hers;
That little girl over there, who's hopping on every
other pave-stone,
Having promised herself only to step on the red
ones?
And the man who asked you for the time the other
day,
And the old woman who cradled your face in her
work-worn hands and blessed you in a language
you couldn't possibly understand;
Who were they?
We can escape many things in life, but never
The curiosity of a moment…
All the little bits and pieces of our asymmetrical
normalcy,
All our quick scratch-paper notes and spilt coffees–
Who are we?
Are we, after all, really that different when you take our
curious shapes and sizes,
Our haphazard hearts, and wayward souls,
And dip them into words?
                               –Evita Arakelian
A Good Old-Fashioned Somersault
He'd brought roses;
The first person who hadn't thought her too practical,
Too reasonable,
Or too much of a grown-up to be treated to a rose bouquet…
What was it that What-Was-His-Name had once said to her?
Oh yes, something along the lines of
"I wanted to bring you some flowers but I… Well, I sorta figured you wouldn't be the type, you know?"
Come to think of it, that's exactly what he'd said.
The long list of whatever-named people who had resorted to the comfortably chartered waters of safe
trinkets…
"You wouldn't be the type"
Wouldn't she?
Nobody had ever bothered to know if she would brave a little entropy;
In the end, all an upside-down world needs is a good old-fashioned somersault!
Like mint chip ice-cream in February and hot chocolate in July,
Like the unabashed and fearless first dance of an entire evening,
Or a wardrobe daringly inspired by sheer Fauvism…
Colors…
The man she had risked all of them with:
The ones that favorably caught her eyes,
The ones that kindly matched her complex,
And the ones that quite stubbornly made her look even plainer than she actually was…
How can colors define a soul?
How does light turn into the substance of a memory?
The fugitive golden rays of the sun, bathing in a newborn river,
The silvery shape-shifter tucking in the last of the sunbeams for the night…
Sunset…
The lit up red balloon bought from a dimply old man in a park…
Which park was it?
The balloon a one-way ticket to Neverland…
What sort of a promise starts with "Always" and closes with "Neverland"?
She wasn't sure which park…
Not much of a surprise,
For doesn't the mind fill its gulag with our darkest memories and unchain the good ones?
Tortoises never get lost,
Othello's curse does not hold dominion over swans,
And swallows…
Swallows always come back;
Au revoir is a natural convention,
Adieu a human decree…
Sunset…
The primroses love sunset…
Primroses…
From the Latin "prima rosa"…
Quite simply: first roses…
First-ever roses…
Funny words:
"First" and "last"…
Meteors crashing into our unassuming lives:
First roses,
First February mint-chip ice-cream,
The last look at a cab that's callously driving away…
                       "I will love you always…
                                               Always in Neverland…"
                                                                       –Evita Arakelian
Altruism or…
Go your merry way, sweet Dreamer,
And whistle as you go,
Paint the darkened rocks with silver,
Coat the blood with snow,
Fool the silence with a ditty,
And whistle as you go…
                      –Evita Arakelian
A Promise
I've looked upon, at midnight fair
A Woman whose name I would not dare
Venture to ask, nor even care
To put a name to that soulful stare.
Two eyes projecting such a gaze
That only ever found its place
On a rebellious sort of woman's face;
A rare, defiant sort of grace.
She's called Clarice, her name is Anne,
Shaia, Akiko, Eve, Roxane,
Samira, Esther, Sofia, Fan;
She's every woman since time began.
With scars of savage swords and fire,
Branded "sinner" since her attire
Awakened or kindled a man's desire:
"Witch! Satan! Damnéd! Liar!"
Then as she hurt and bled forlorn,
They said with words from Bible sworn:
To serve men and their abodes adorn
Was the only reason she'd ever been born.
Designed to obey and be led,
And not to worry her "pretty head",
Silence better than aught she said,
Worthless unless she's to be wed.
"Sweetheart, leave the jobs to men!
What do you want with a pen?
Men are stronger, let them rule,
You? You're just a simple fool!
"Sweetheart no more of your voice!
What's this nonsense about a choice?
Cattle and oxen don't complain,
Look! Their sisters too we've slain."
"Oh but no sir, look at me!
I advocate a world that's free!
I'm a child of all that's been,
I'll build the future that's to be!
I won't be smothered for your gain,
I'm not a slave for you to chain,
I will not please and entertain,
Mine the right to vote again.
And all the world will hear my voice,
They'll awe at how I made my choice,
I climbed the ladders of the skies
I tamed the fire and the ice!
Full of pits and traps the roads;
The ones I've traveled, the ones to go;
But here's my promise, my decree:
Now She's risen, now She's free."
                                 –Evita Arakelian
Have We Met?
-So, this is goodbye?
– "Goodbye", as in "farewell"?
– No, it's too difficult,
– Too heavy a burden,
-Too merciless a task that we've been set!
-But what if…
– Yes, oh yes!
Better to pretend we never met…
-Goodbye is naught for strangers,
But the bane of lovers and friends;
-Upon an annihilated first meeting
Is where her power ends.
-Do I know you, my lord?
-My lady, have we met?
-No! But if we had, it would have been–
-In a meadow as the dew-drops rested their heads–
– on the velvet rose petals,
– At sunset…
– And the sky shone purplish-yellow,
– I recall it as a rose-gold blue,
That caressed the meadow's lushest green…
-If we'd met how glorious–
– How perfect–
– How beautiful it would have been.
– If ever my pilgrim eyes
 Had found their refuge in your gaze–
– 'twould have been like this open gateway
 At the final twist of a maze…
-It was!
– No! It would have been!
– Two wayward, wayworn souls to whom
Daffodils, rainbows, and sunrises mean–
-Eternity, in seconds condensed!
-How sublime the moment I…
I supposedly sensed–
-Love,
Both fervent and serene!
-Love that always was–
-But never should have been…
                                      —Evita Arakelian
Remnant
I ask you to write my song, dear friend,
But not on iron, nor on stone;
I bid you neither use swift emeralds,
Nor artifacts of mammoth bone.
In fact, use neither ink nor paper,
Much less fabrics fit for thrones;
But dip your finger in the sand,
Somewhere in a distant land;
My balladeer? The ocean foam…
                            –Evita Arakelian
The Taxi Driver
You know,
I never did find out his name,
The Taxi Driver, I mean.
Well, you're either wondering which taxi driver,
Or you're reviewing,
To the best of your ability,
All the taxi drivers you've ever met:
The bald guy who charged you extra last week, maybe?
Or the handsome one who opened the door for you on Thursday?
The one with the interesting accent who wouldn't stop talking,
Or the Jazz fan who helpfully carried your bags to the hotel?
But no,
The Taxi Driver who has warranted these ramblings
Is nothing like the people you meet every day;
I mean,
He's so ordinary no one would even half think of thinking about him twice.
So there goes your paradox:
What am I doing
Writing about this ordinary man,
A year,
Yes, an entire year, after I asked him for a ride on a fine spring morning.
That's what it was:
A fine spring morning,
You could say a very ordinary morning.
Everyone going about their–
Yes, let's go with 'ordinary' again:
Their ordinary lives,
With their haphazardly packed rucksacks of worry
Clinging on to their shoulders for dear life:
If you have a mortgage you haven't paid,
If the stuck-up neighbor next door is bothering you,
If you've been overdosing yourself on caffeine thanks to an impossible deadline,
Or if you're simply late for a meeting
And too rushed off your feet to notice you're wearing odd socks,
This is your stage:
The bustling, ordinary streets of a chaotic, ordinary city;
The speeding cars and the tall buildings
Are all the mise-en-scène you're going to get.
Your co-actors?
The woman who's struggling to carry all her dossiers despite her eight-inch heels,
And the man who just passed you by,
Shouting dedicatedly into his phone as he went…
So by now you're either wondering where all this is headed
Or you've made an educated guess
 As to who my co-actor on this particular morning was:
Profession: taxi driver,
Status: stranger,
Description: ordinary,
Or so I thought as I struggled to convince his extraordinarily creaky taxi door to stay shut
While absentmindedly informing him of the address
(I must have smiled too, I think).
"No time for idleness."
Sound reason chiding my eyes upon their playful attempt at launching themselves on whatever scrap
Of the perfect blue sky they could find…
Can't work: the car's too ancient and won't go smoothly enough…
There goes exasperation banging its head against my thoughts again…
I whipped out my faithful "To Do" notebook,
Fully ignoring the fact that "To Do" is supposed to be the name of a list, only ever that,
And that you shouldn't,
Whatever you do,
Name your diary after it.
"Dear Diary,
I saw the cherry blossoms dancing with the robins today!"
"Dear Diary,
 the cherry blossoms were nice today."
"Dear Diary,
I really shouldn't forget to do…"
How easy it is for the carefully calligraphied and endearing "Dear Diary"
To become a hurried pencil scribbling: "To Do"…
Easier even its justification:
The world we live in nowadays…
The centrifugal force of accelerating developments…
The pace…
The breathlessness…
"Prepare Monday's presentation,
Finish research for Wednesday,
Interview on Friday,
Contact–"
Can't even call anybody…
All they'll hear is the hubbub of a busy street in mayhem
The sonar oozings of our modern blight, the traffic.
Wait…
We're taking a turn into a quieter street!
No cars!
What a stroke of luck!
Search Contacts
Quickly!
Let's arrange a meet for–
What's that?
Why have we stopped?
Did he say something?
About the route? The fee? A problem maybe?
"Look!" His voice that of a child who has seen, truly seen his first snow,
"The Cherry blossoms are back again!"
                                                                         –Evita Arakelian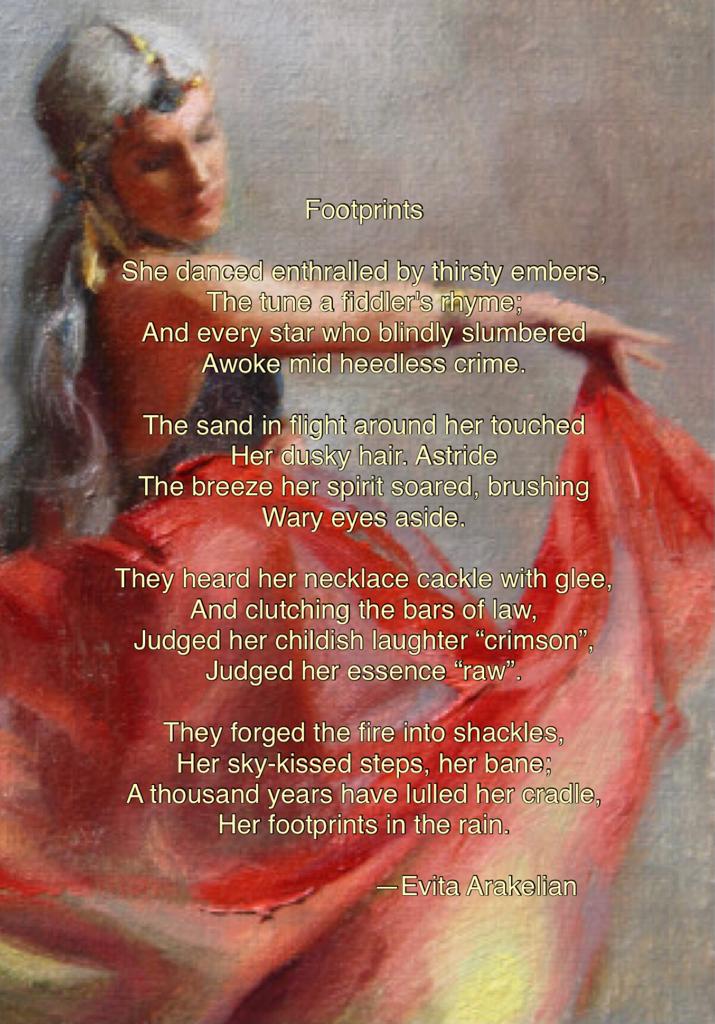 Dandelions
A drowsy night, as thick as opaque paint
Wrapping the candlelight in slumber, as I,
My thoughts fading, now finally face
The light-nourished path of time long past;
A field of dandelions;
Soaked in sunlight, and soft in touch to hands
That tinily fumble with cotton heads
Lacing the proud outskirts of Faeryland;
A land well guarded by these flower beds,
This field of dandelions.
Father's cheerful voice "Please tread with care",
Mother's, reminding, lest I should forget
To wish, before I saturate the air
With fugitive faery dust that crests
This spread of dandelions.
How welcome a task simply to confide
One's wish to the apostles of the breeze!
And so I close my childhood eyes,
And whisper a dream for them to keep,
This host of dandelions.